Doors and Frames
Many shops can benefit from glass door displays, whilst enjoying the economy gained from combining the refrigerated storage and display areas.
Direct rear shelf loading of the units from the enclosed chilled areas achieve accurate stock rotation and minimum customer disruption.
Glass doors in Coldroom walls combined with good lighting provide attractive displays whist customers walk in the warm clear aisles.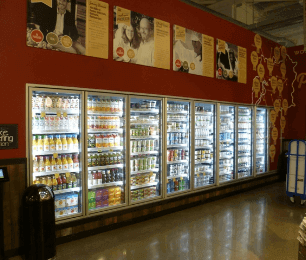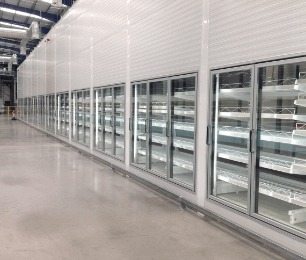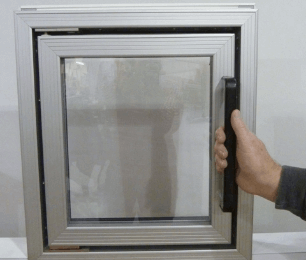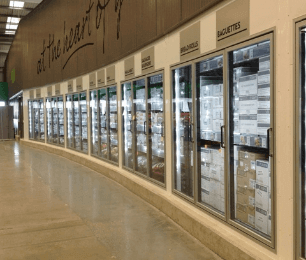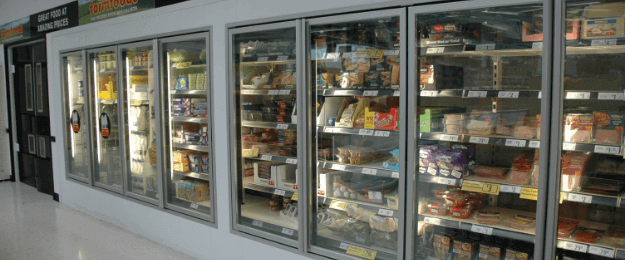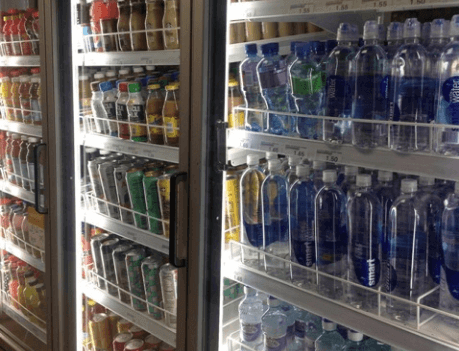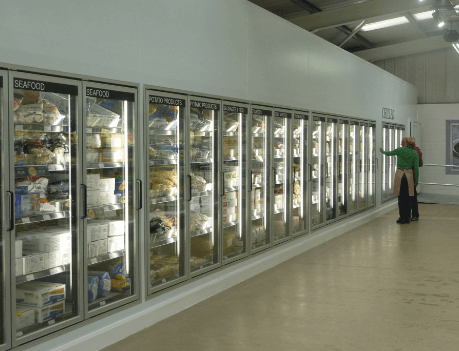 Temperature
The doors and frames are able to be used for commercial refrigeration. Standard temperature range is from +65℃C to -27℃C.
Our different models are able to cope with different temperatures. The heated glass doors and frames prevent condensation and ice forming on the doors to give clear viewing of the products.
Lights
Frames are available with light on each upright.
Our standard lights are LED strip (effect pictured).
Colour
Our doors and frames come as standard in anodised siler or black. We are able to provide all standard BS and RAL numbers. We ave provided black and other coloured doors and frames to curtain restaurants, bars, and private sites for the fronts of wine, beer and food displays.
(the large door shown has been painted a dark gray and also has been fitted with a bespoke handle provided by the end user)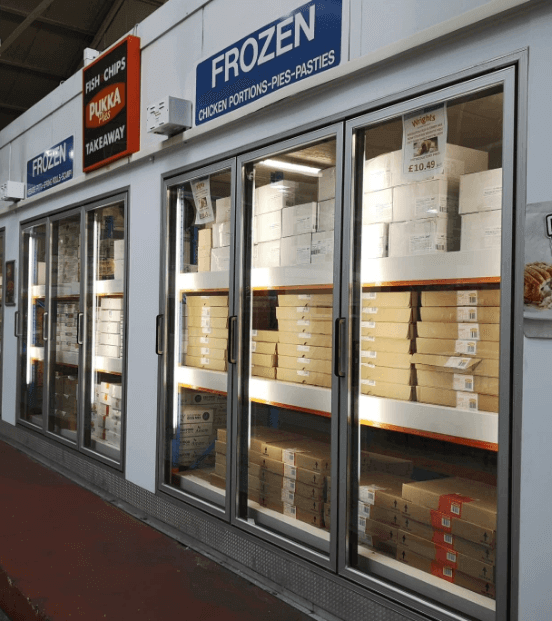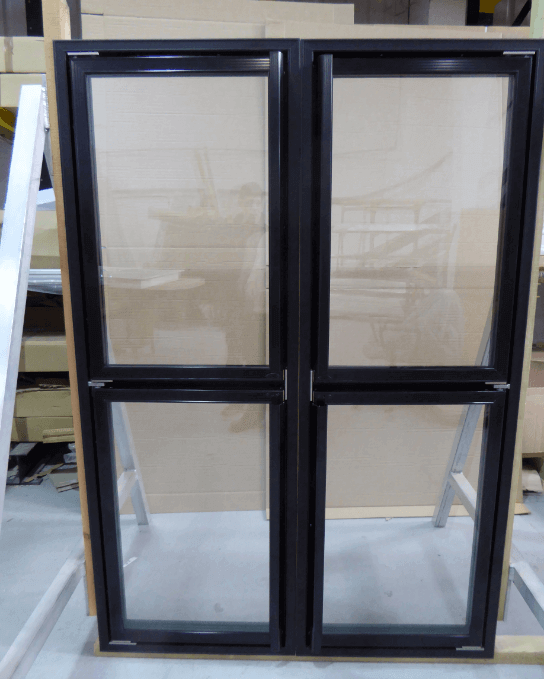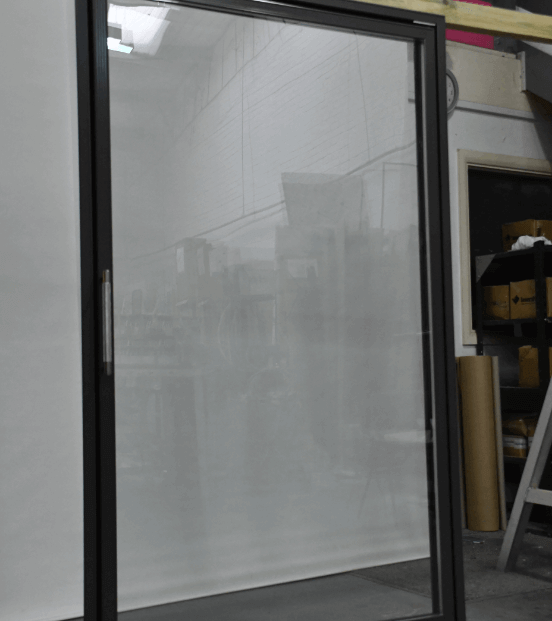 Handles
All doors come as standard with a 'Europress' U-shaped handle.
Options for this include long handles running the whole length of the door or brushed Aluminium 'T' handles, which have been used on private sites.
Other handles can be provided from clients and (after approval) fitted.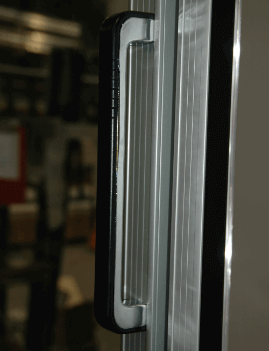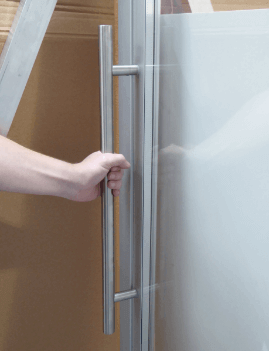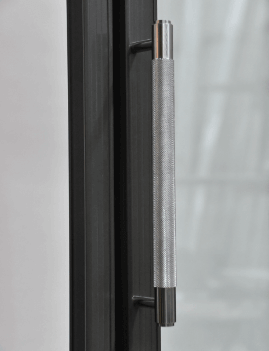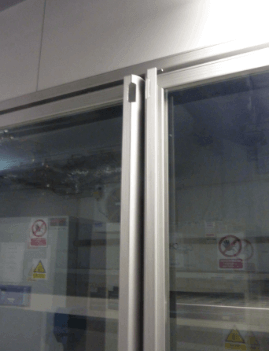 Hinging
All doors are able to be hung right handed or left handed in our frames. Any hinging format can be supplied.
They are all self close and the tension can be adjusted as required.
Locks
Doors we provide are able to have locks applied to them. Our standard locks used are casement barrel locks with a star key.
Also available is a keyed handle lock and 'Padlock' plates which are fitted to the door and frame.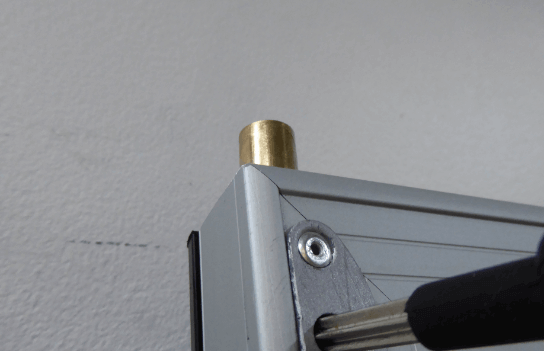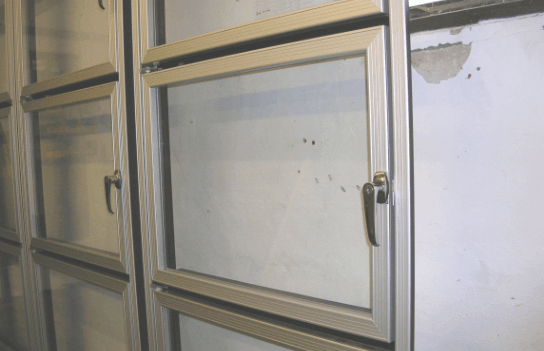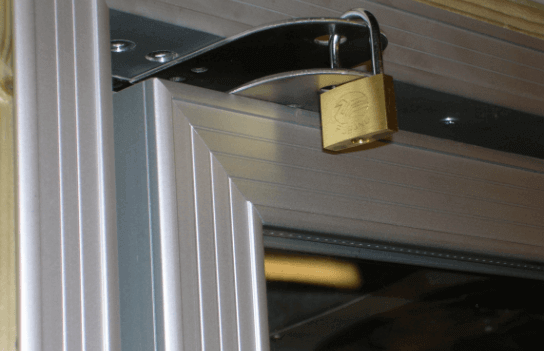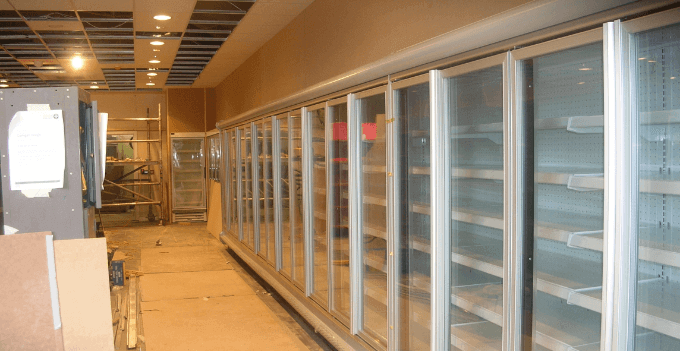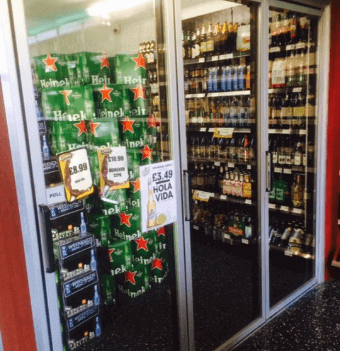 Flush Fitted Thresholds and Connected Frames
The frames can also be 'Roll-in' which is flush to the floor. Allowing none public access to coldrooms for maintenance or stocking.
When providing doors and frames we are able to combine multiple frames together allowing the final product to look like a continuous run of Coldroom doors.
Materials
The doors and frames are able to deal with many different environments.
Our standard refrigeration glass door consists of 2, 4mm panes of toughened glass.
We are able to change the materials which we put into our door units to your requirement such as Polycarbonate, acrylic or solid foam board. As well we can be provided (after approval) with the material needed.
Other options include a mirror finish which have been used in none commercial environments such as display cases.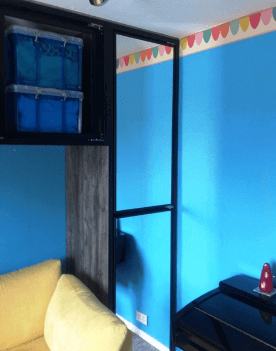 'Filming'
Shatterproof film is able to be applied to our doors. This allows our doors to be used in food preparation and alike environments.
Films also available include 'crystal etch', UV and different tinted films and decorative films.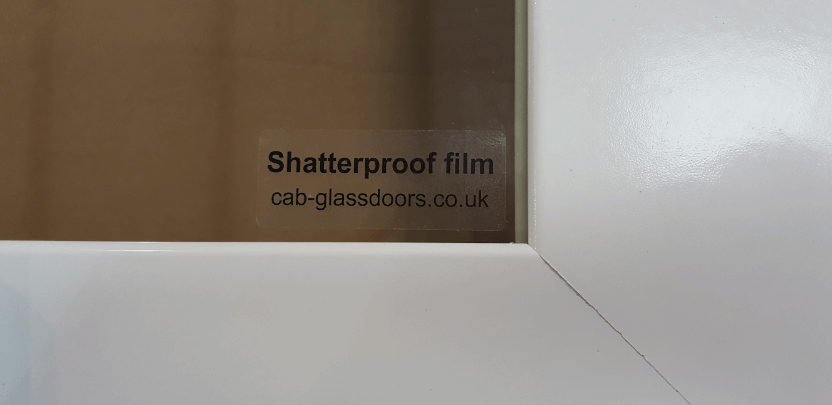 Different style door
'Total Glass' design doors
These doors offer an alternative style. They have been used on sites for none commercial use. The overall look has the front pane of glass to the edge of the door with just a capping of black aluminium for a simple flat finish.
Our 'Total Glass' doors come with a long handle.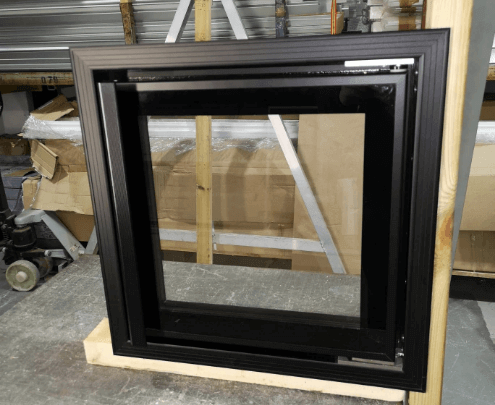 Frame Different style
Vertical frames are available. Having the doors one above the other vertically aligned. This allows for an alternative display possibility on certain sites.
More applications have been used by our doors in many industries such as hatchways for machinery and chest freezer style lid.
Other applications are welcomed and we would want to discuss other potential uses for them.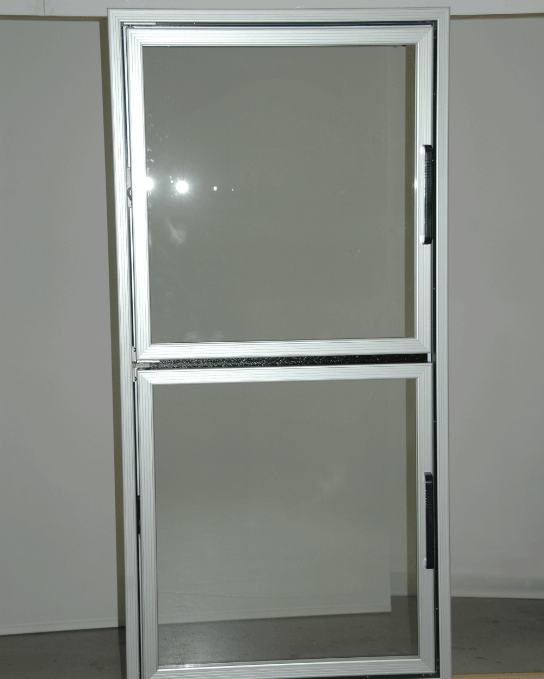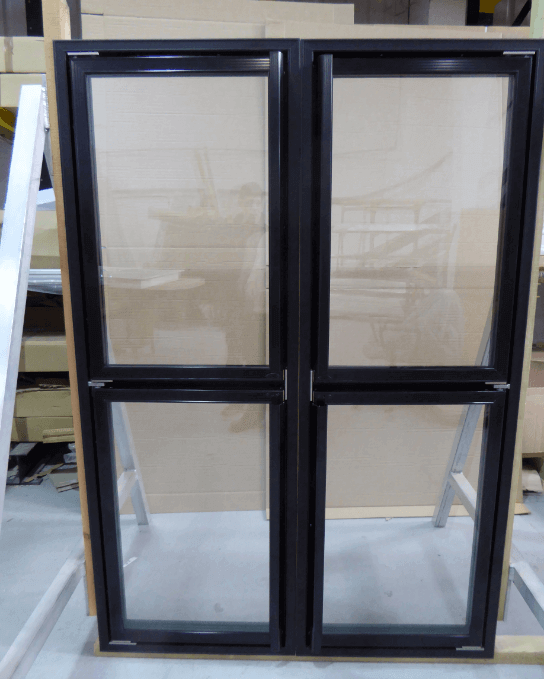 CAB Doors and Frames have a variety of variations and can be places in most settings.
We would be happy to discuss any different requirements you may have for your project.